A smart tagline is an invaluable marketing tool for just about any business these days. If you want your brand to be remembered, a memorable or attention-grabbing tagline will help no end.
It has been said that for anything like a company name, tagline, slogan, etc., you should think of a few, completely discard them and think again – apparently your ideas will improve along the way! Here is a selection of websites that use great taglines that describe what they do in just a few words – and maybe what they can do for you too.
Attention-Grabbing Taglines
Tens
Tens make a revolutionary lens for sunglasses, which they say works with the warmth of the sun and transforms your view into a vivid experience full of clarity and color. Their well-thought-out tagline is: 'Our Perfect Filter. Your Endless Summer.'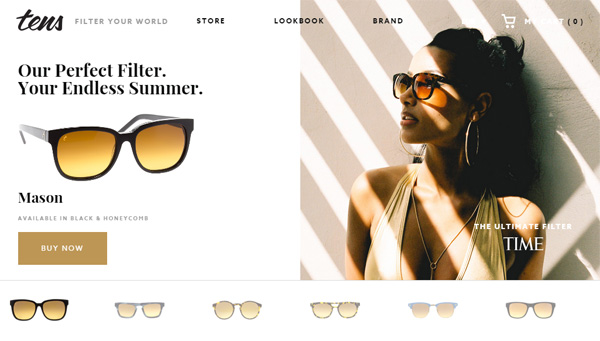 Orthology
Orthology claim that their goal is to get you back to a pain-free life as soon as possible. They use a number of attention-grabbing taglines around their site, such as one on their Why Orthology page: 'Restoring every life we touch'. The landing page offers the promise: 'Get Better. Faster'.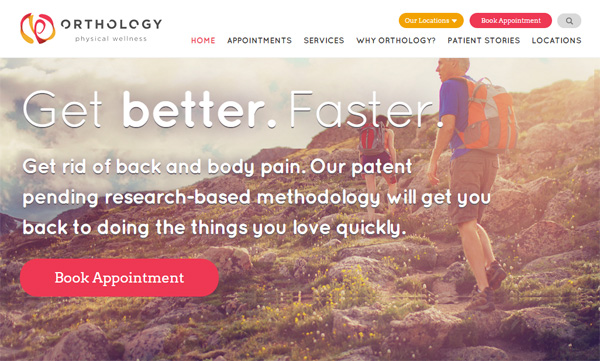 Jones Film & Video
This film-making team use one of the best taglines I have come across – it gives the impression of an explosion of creativity, experience and results: 'The place where big ideas and moving images collide'.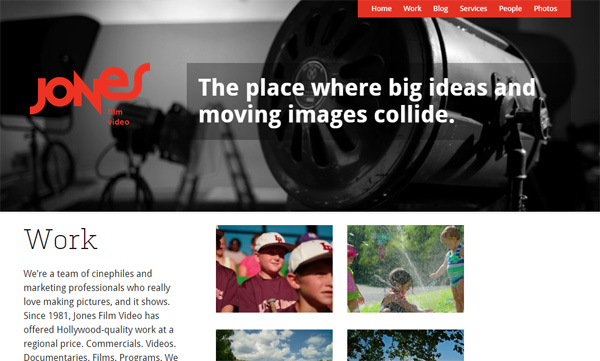 New Deal Design
This design agency uses two taglines together, and you can be sure one or both of them will grab your attention! 'Good Happens Here. We mix brains, bravery and magic to make people smile'.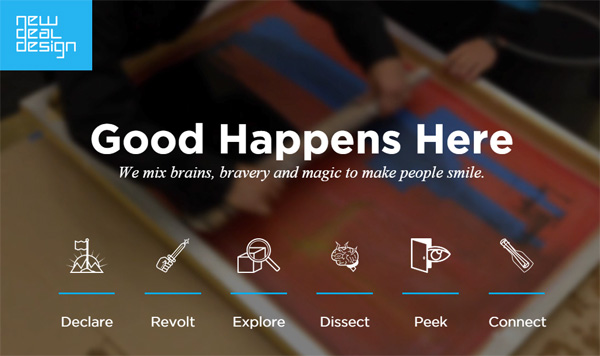 Agigen
This Swedish web agency make a hugely bold statement in their tagline, and they present it in large typography on a bright red background… I am sure all designers and developers would like to think this, but only Agigen are bold enough to declare it: 'We make the web a better place'.
Podravka
Podravka is a Croatian food manufacturer, and they throw out a few interesting (for their audience) words on their home page – 'Creativity', 'Excellence' and 'Passion'. Their tagline is sure to grab the attention of consumers who want to eat good food: 'Ideas move the heart – Heart moves everything else…'.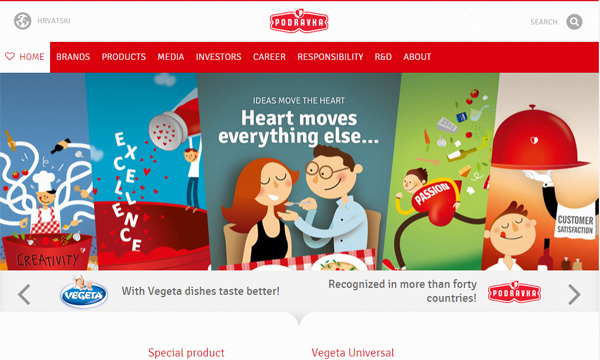 Mystique
Mystique is a luxury hotel located on the Greek island of Santorini. One of the taglines they use could be a little off-putting for anyone on anything of a budget looking to book a hotel – 'Reserved for only the most discerning of travelers'.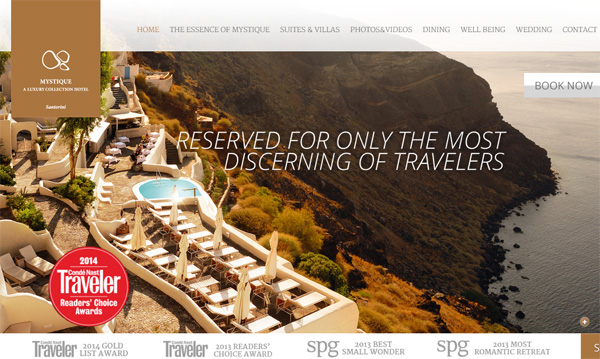 Exclamation Labs
This web agency uses a brave tagline that, similarly to the above example, could put off some visitors – in this case, the tagline is a bit ageist, and seems to be designed to attract younger clients: 'Not your parents' web agency'.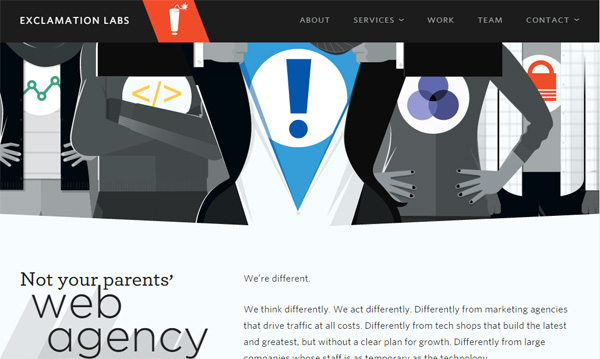 Monte da Ribeira
This activity holiday company in the Algarve region of Portugal offer packages that include an agricultural-type of activity, along with accommodation. Activities include Honey Harvest, Grape Harvest and Easter. Their tagline is 'Beauty lies in simplicity'.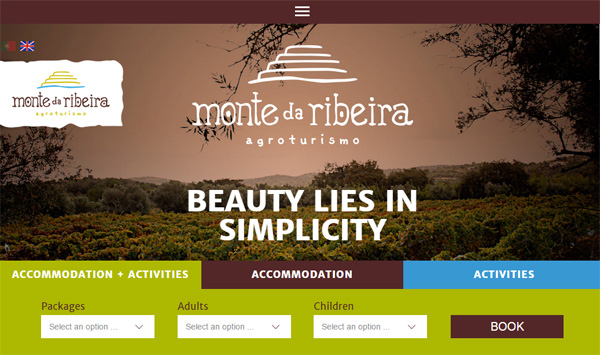 Vulking
Vulking are a Dutch manufacturer of sneakers, and they use a simple, memorable and fully explanatory tagline: 'Crossing borders'.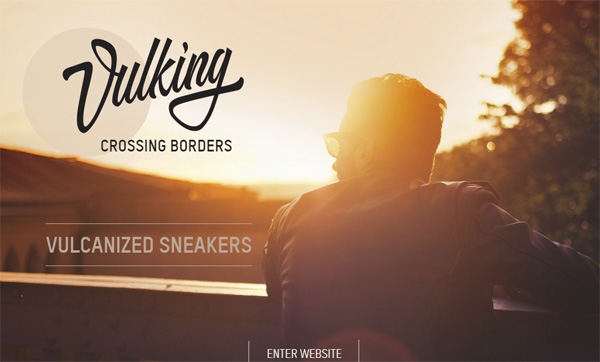 Lunar Gravity
This Belgian agency uses a minimal approach for their website design. All of the text has been cut down to be explanatory in as few words as possible – that can't be easy! The agency name is displayed in large black type, but only Lunar or Gravity are on the screen at any time. Their tagline indicates that distance is no issue: 'We craft unique digital experiences throughout the universe'.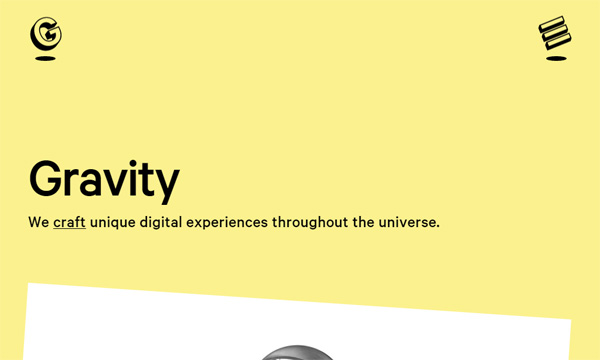 Flock of Siegel
This multi media agent uses huge white typography on the landing page that is different colors each time you open it – even your mouse pointer becomes huge! A great and memorable tagline helps grab the attention of visitors: 'Creative media for every device that exists today/tomorrow/the future'.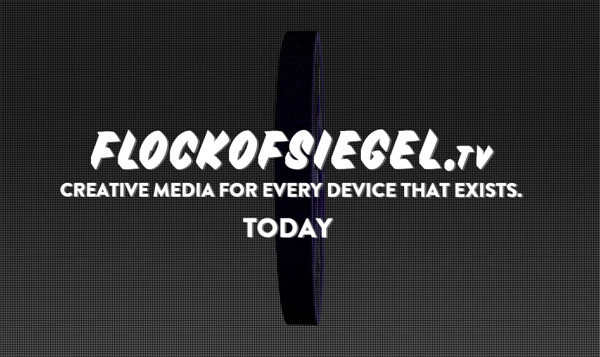 Maestral
Here is the introductory paragraph from Maestral's Who We Are page: 'Maestral International is a team of leading global experts supporting the development, strengthening and coordination of child protection and social welfare systems that meet the needs of children in adversity. We work to strengthen community-based and nationally-owned systems for preventing and responding to harm and supporting children at risk.' They use an emotional tagline, designed to pull at the heartstrings of visitors: 'Today's children. Tomorrow's hope'.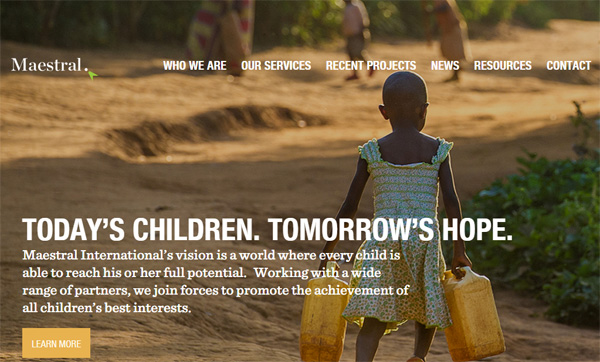 The Cancer Sutra
A play on the name of the ancient Indian Hindu text, The Kama Sutra, this site is designed to bring to visitors' attention how to look for and find cancer signs through intimacy with a partner. They use a direct and to-the-point tagline that will surely make visitors explore the site further: 'This project exists to help save lives.'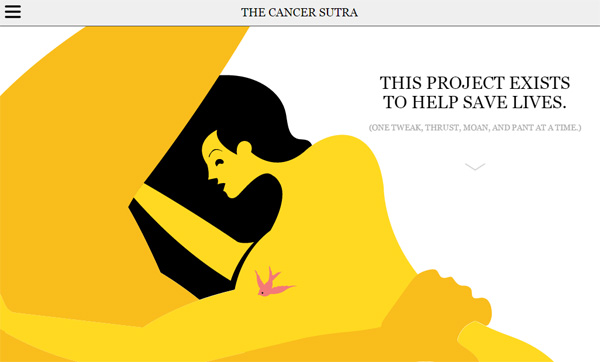 Event Lab
This event organizer has a slide show of some amazingly beautiful images of event settings, and they use a say-it-all tagline: 'Prepare to be inspired'.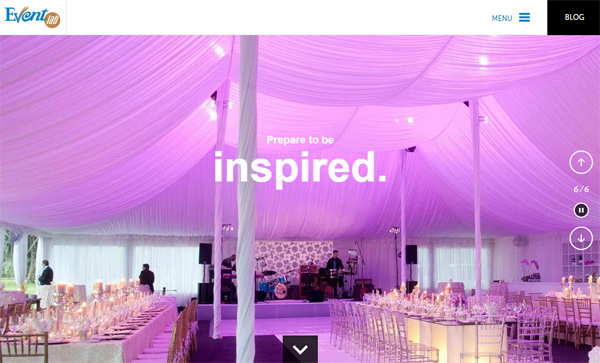 Dunckelfeld
This agency uses a very dark full screen photo with large orange typography for their tagline, that is borrowed from the film series The Fast and the Furious: 'The Fast and the Curious'.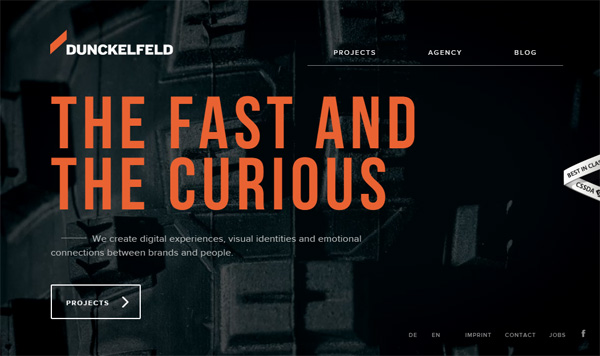 Here are a few examples of some of the taglines that we know… they have stood the test of time, they are memorable and simply say it all in a few words.
Olympus Cameras

L'Oreal

Subway

McDonald's

Conclusion
Good taglines are short, to the point and describe the service or product clearly. To dream up a tagline is no easy task, and to make it memorable and attention-grabbing is even more difficult and requires a seriously creative mind. This collection of taglines meet the requirements, and the more famous/well known ones really show just how it should be done!